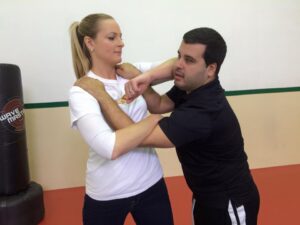 The use of protective force as a countermeasure to prevent oneself or another from harm is known as self-defense.  This is the basis of our teachings and an
area that is covered in every single class at our school.  The basic premise of our approach is based on the fact that it takes many years of practice before a person can execute a good kick or punch.  Therefore we consider it critical to teach self-defense techniques to every person we come across.
Just the fact that an individual takes a self-defense class reduces the probability of becoming the victim of an attack.  Of course, the more an individual learns and the more practice he/she has the higher the probability of protecting oneself and others.  Hence, while we cover self-defense techniques in every class we also offer special courses where only self-defense techniques are covered.
The standard curriculum of a self-defense class starts with empty hand grabs and progresses to the point of disarming an attacker and using his/her weapon as part of your defense.
Self-defense classes are normally one to two-hour sessions but at the present time they are only offered as special events such as:
Fund Raiser
Community Awareness
Special Group Interest
By Request
NOTE:  SELF-DEFENSE CLASSES ARE FLEXIBLE.  HENCE ALL WE NEED TO COORDINATE IS TIME, DATE, AND LOCATION AND WE WILL MAKE IT HAPPEN.
Fund Raiser
Great opportunity for schools, Non-Profit organizations (Religious, Community based, etc.) and many others to serve your community and members while raising funds for your operations.
Community Awareness
Throughout the year we will schedule a number of classes that are designed for special groups such as:
Women
Young Adults
Kids
Handicap/Disable
Elderly
Other
Those classes are normally advertised thru our Web Site and other social media venues.
Special Group Interests
This is the chance for everyone to have fun.  Simply get a group of at least 10 interested individuals and we take care of the rest.  Under the Special Group Interests we categorize:
Birthday Parties
Women (BFFs)
Mom and Daughter
Workgroups / Team Building