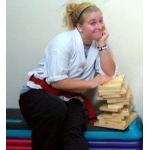 I can tell all of you about our "family" and the differences in our program, but in this case I cannot be more eloquent that the words of this mother.
November 10, 2012 Moriah Joy Raymond received her Black Belt today!
It has taken 6 years of diligent hard work and everyone is really proud of her. Her Tae Kwon Do family honored her with a sweet ceremony and cinched her Black Belt around her in their traditional gut-squeezing rite of passage and she beamed.
She loves her new belt, gold embroidering her name, and one stripe, the first of a possible ten. Master Delgado also gifted her with a beautiful sword.
All of them acknowledged her God-given gifts and how they have all benefited from her presence and perseverance.
This school has definitely furthered her gifts and developed other intrinsic gifts as well.
Moriah is the 19th person in Master Delgado's 35 years of teaching to receive a Black Belt. He considers Moriah as one of his children and displays the kind of love parents show, including discipline.
Moriah has learned a great deal in the 6 years with Master Delgado, not without tears and struggle. We are so grateful for all she has been "forced" to accomplish because Moriah is the wonderfully-balanced young lady she is because of the rigorous training she received in those classes, often 6 plus hours per week.
That's just counting the physical aspect. Much more was included in earning the Black Belt: not just passing the actual test, but creating and taking an anatomy test, community service, memorizing the history of and taking a 100 question exam on Tae Kwon Do ("The Art of Hand and Foot"), planning a community event, creating a lesson plan to run the class, and writing an article (which can be read on koryodo.com), and paying a $300 test fee with her own money that she earned/raised.
Needless to say she has worked hard! And as Master Delgado said, she has earned the respect of her peers. And as I said, we are all very proud. What a accomplishment for our 17 year old daughter!
Congratulations, Moriah Joy! You fill our heart with tears of joy! Praise God for His hand on your life! And thank you, LORD, for keeping them all safe! Thank you, Master Delgado, for always giving of yourself for the benefit of our children. Thank you, Beloved for sharing our joy. "Glorify the LORD with me!" -Psalm 34:3 Patrice and Richard