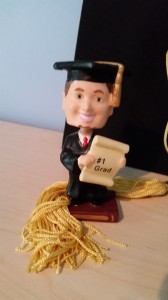 As we prepare to attend a number of high school graduations and get our children out to college I had to pause based on a mother's comments and her intention to keep her daughter at our school while she was going to college.  This simple comment made me happy but instilled a query on my mind about the facts.  My query turned into research and a great web site I found with the information and source at the bottom of this post.
In this particular case I wish more parents will act like her and think about measures to empower their children and give them the tools needed to succeed and be safe.  The impact of this mother's comment and the facts are so overwhelming that the least we could to is to pass them along and hope that others learn from her wisdom.
Even if you don't agree with her decision at least share the information as awareness is many times a tool by itself.
60% of male college students "indicated some likelihood of raping or using force in certain circumstances."
Men in fraternities appear to engage in more non-physical coercion and use of drugs and alcohol as a sexual strategy than do independents.
Every 21 hours there is another rape on an American college campus.
90% of all campus rapes occur under the influence of alcohol.
Men are more likely than women to assume that a woman who drinks alcohol on a date is a willing sex partner. 40% of men who think this way also believe it is acceptable to force sex on an intoxicated woman.
Alcohol use at the time of the attack was found to be one of the four strongest predictors of a college woman being raped.
43% of college men admit using coercive behavior to have sex, including ignoring a woman's protest; using physical aggression; and forcing intercourse; 15% acknowledged they had committed acquaintance rape; 11% acknowledged using physical restraint to force a woman to have sex.
College rape victims receive external physical injuries in over 47% of all rapes.
Of the college woman who are raped, only 25% describe it as rape.
Of the college women who are raped, only 10% report the rape.
College women are most vulnerable to rape during the first few weeks of the freshman and sophomore years.
One in twelve college-age men admit having fulfilled the prevailing definition of rape or attempted rape, yet virtually none of these men identify themselves as rapists.
34% of completed rapes and 45% of attempted rapes take place on campus. Almost 60% of the completed campus rapes that take place on campus occur in the victim's residence, 31% occur in another residence, and 10% occur in a fraternity.
3/4 of off-campus rapes and 7/8 of on-campus rapes involved perpetrators who were known to the victims.
78% of the men identified (as rapists) were an acquaintance, friend or boyfriend of the victims.
Most rapes occur on the weekend.
Resources:
Journal of Research in Personality
Social Contexts and Social Learning in Sexual Coercion and Aggression: Assessing the Contribution of Fraternity Membership
National College Health Risk Behavior Survey
Center for Addiction and Substance Abuse
Journal of American College Health
Virginia State Council on Higher Education
Fisher, Cullen & Turner, 2000
Warshaw, 1998
Source: http://www.crisisconnectioninc.org/sexualassault/college_campuses_and_rape.htm