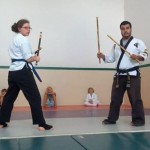 This past Saturday, February 9 2013, at the school of Koryo Do in St. Augustine Master Jose I Delgado tested the first students ever to qualify for level one short stick.
The test covered, forms, self defense and fighting using an 18 inch wooden stick.
The students that successfully tested included Sensei Ishmel Crawford, Ms. Gretchen Black and Ms. Crystalyn Fecher. Master Jose A. Delgado, head instructor of the weapons program was quite pleased with his students and is looking forward to the opportunity to promote many other students in the future.