We're so excited, the time has finally come!!
This Saturday, we'll be hosting our FINAL Women's Self Defense Class of the year honoring Breast Cancer Awareness Month. This class is OPEN to all ladies, age 13 and up, and will cover basic self-defense against Grabs, Knives, Bats, and more!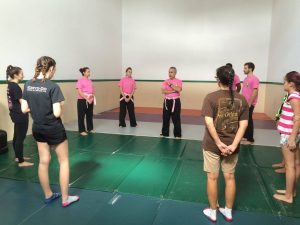 Our school is big on providing our community with the skills and knowledge that it takes to stay safe. Too often we hear about others getting injured, abducted, or killed when suddenly being overcome by an aggressor. So when we get a chance to take what we know and combine it with a great cause such as Breast Cancer Awareness, we just have to jump at the moment!
Some of you may notice that this class is a little pricier than our standard Self Defense Classes as we will also be donating part of the proceeds to the Breast Cancer Research Foundation! Spaces are limited, so if you or someone you know is interested, please feel free to contact us today!
GENERAL CLASS INFORMATION
Date: Saturday, October 9th, 2021
Time: 9:00 AM – 10:00 AM (1 hr)
Location: Koryo Do School of Tae Kwon Do
1851 Old Moultrie Rd, St. Augustine, FL 32086
Price: $20/person (Cash, Credit, Venmo, or Zelle)
Typical q&a
Q: How Big is the Class?
A: Usually between 10-12 guests, up to 20 people.
Q: Are there any covid-19 restrictions?
A: This is a close contact event. Masks will be recommended to those who are not vaccinated. For those who experience any COVID-like symptoms or illness 24-48 hours prior to class, please give us a call to discuss further options.
Q: What is covered during the class?
A: Basic defense moves against an attacker that grabs, points a knife, or wields a gun. The do's and don'ts of self-defense.
Have any additional questions? Want to register for this class? CONTACT US TODAY!
Email us at [email protected] or Call 904-794-7830
Did you miss our class? Not to worry!
We hold these classes throughout the year ~ Like & Follow us on Facebook to keep in the loop of all of our school events!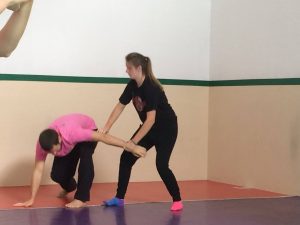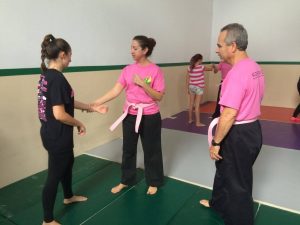 Interested in taking Classes? Click HERE for more information.