HAPPY

4TH

O

F

JULY
▼ check out our school events below ▼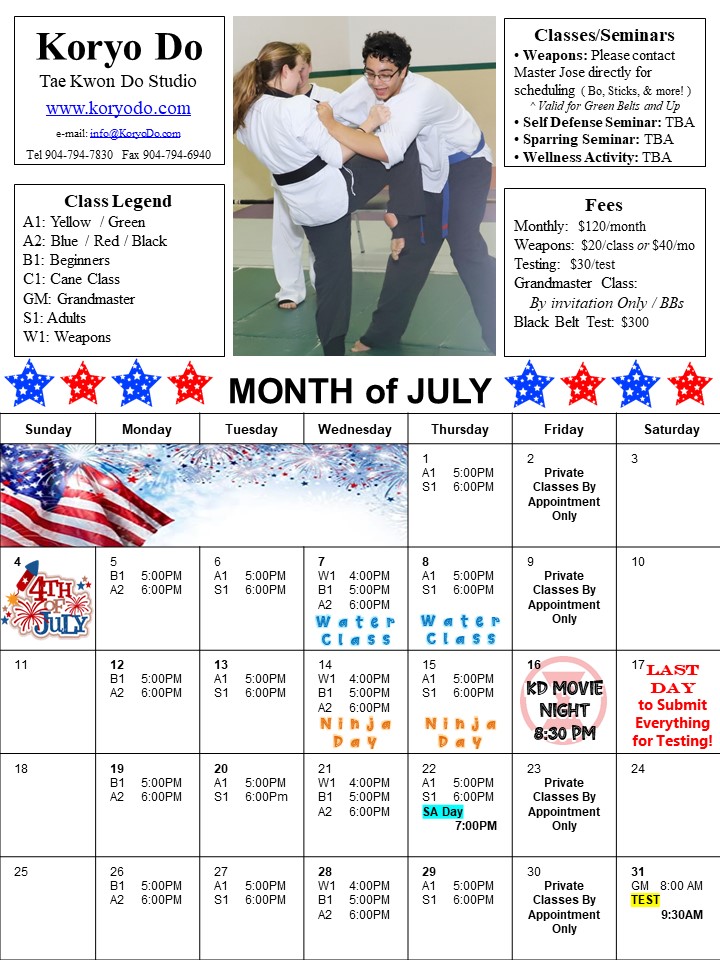 Koryo Do School Highlights – July
?? Independence Day {HOLIDAY}: Sunday,  July 4th
?? WATER CLASSES: Wednesday, July 7th & Thursday, July 8th
Time to splish-splash! Students attending these classes are highly encouraged to wear their swimsuits, water shoes, and KD T-shirts! We'll be working on our aim, balance, teamwork, and more during our SUMMER SPECIAL Water Classes! *Weather Permitting
?? NINJA CLASSES: Wednesday, July 14th & Thursday, July 15th
Sneak…sneak…sneaky – Time to test our Students Ninja Potential! Available to all KD Students, we're busting out the obstacles and fun. Students will learn to throw shurikens, compete against each other in our agility course, and train in the ninja way!
?? KD MOVIE NIGHT: Friday, July 16th from 8:30 PM – 11:00 PM
Grab your blankets and favorite snacks. We'll be showing Black Widow onsite for our upcoming KD movie night! Available to all KD Students. Popcorn & Drinks will be provided.
?? GrandMaster Class: Saturday, July 31st from 8 AM – 9:30 AM (KD Blackbelts ONLY)
?? KD TESTING: Saturday, July 31st beginning at 9:30 AM (Open to KD Students ONLY)
UPCOMING EVENTS:
?? Women's Self Defense Class {KD EVENT}: AUGUST 21st from 9 AM – 10 AM
OPEN to our local ladies, ages 13+. Come out and learn how to stay proactive and safe with this basic trainings event! We'll show you how to defend yourself against grabs, knives, and bats during this 1-1.5 hour-long class. PRE-REGISTER TODAY on our Facebook Page > https://fb.me/e/3BknhwTxRLY)